Transparency Report
January 1, 2022 - September 30, 2022
Released: 7th November 2022
Josh (hereafter as 'Platform') is India's leading short video app having 163 million users to create and consume content in their local language. We believe that feeling safe is essential to express yourself authentically, which is why we strive to uphold Platform's Terms of Service, Privacy Policy, Community Guidelines (together hereafter as the 'Josh's Policies') by actioning any violating content. We create an environment where everyone feels safe.
We are publishing this transparency report for the period of 1st January 2022 to 30th September 2022. This transparency report is a representation of our commitment to all our stakeholders by sharing more about safety on the Platform, our principle based approach to enforcing the Community Guidelines and continuing to gain trust of our Users to freely and safely express their creativity at all times.
This report is in addition to the Monthly Grievance Data published on our Portal as mandated under Information Technology - Guidelines for Intermediaries and Digital Media Ethics Code) Rules, 2021 ("IT Rules").
This report provides highlights of several social initiatives, content safety actions by the Platform such as takedown actions based on Platform Policies violations, user grievances and our cooperation with law enforcement agencies.
I. Social Initiatives:
At Josh, we pride ourselves on being a catalyst in inspiring youth; by being a destination for inspirational, and informative ideas. Below are some of our work in the field of Social Awareness, Sustainability, Wellness and Education.
(1) #VoteFest
Description: It's time to elect our leader again! It's time to exercise our right to vote! Show and inspire the world to vote right while they have the right to vote
Link: https://share.myjosh.in/challenge/5f3f7093-32c7-4b4e-a4c7-44f67ebf7a5e
(2) #Save Soil
Description: With the Save Soil movement, making a significant impact across the globe. JOSH brings to you the SAVE SOIL DANCE CHALLENGE. Save Soil is an initiative to bring awareness to the preservation of Soil, our life resource.
Link: https://share.myjosh.in/challenge/d0764af8-ab00-41fe-b315-cdc562c86c17
(3) #Yoga and Health
Description: Yoga should be fun, not boring. To make this Yoga Day more interesting, Josh brings you an Alphabet Yoga Filter where you need to do Yoga poses as shown in the filter.
Link : https://share.myjosh.in/challenge/c56ef234-23d1-448c-87db-4ee286ec7a31
(4) #Education
Description: Delhi Police brings to you an empowering challenge wherein you get a chance to showcase your Sashakti move on Josh.
Link: https://share.myjosh.in/challenge/0b44d090-991a-4425-946e-88e33d729cc3
II. Content Moderation
Our Platform Policies describe permissible activities on the Platform and these are reviewed and/or updated annually. Any user content that violates Platform Policies is removed. In addition, depending on the severity of the violation, we may block the User.
We proactively moderate content to include broad categories as per our Community Guidelines. Content moderation on the Platform is a three-step process. Our in-house machine learning product and processes are central to our review process, it helps detect and remove content that violates our Community Guidelines. We also use robust third-party moderation tools that aid our moderation process. The next step is human review to evaluate violations of Community Guidelines and take further appropriate actions.
We are constantly working on improving user experience and to that extent, we are currently working on providing our users with an enhanced in-app content violation reporting mechanism. Additionally, we are also strengthening our AI/ML capabilities to detect live content violations.
We are committed to being transparent about how Platform Policies are enforced as it helps to build trust with our community and holds us accountable. Such reports provide further visibility into the volume and nature of content removed for violating our Platform Policies. In this report we share details related to law enforcement requests, and Users and/or third-party requests for actions including takedown. Going forward we plan to periodically publish such reports.
1. Law Enforcement Requests
This report includes the Law Enforcement Requests received for Josh from law enforcement agencies. Based on such requests, the action(s) taken includes content/user account take down, and/or requested user data is shared with the law enforcement agencies.
2. User Complaints Received
This report includes the user complaints received by Josh via various reporting mechanisms as set out on the platform. Our users have the option to report any violations on the Platform. Our users have been reaching out to us for general feedback at "yourfriends@myjosh.in". Further, they can write to Platform's Grievance Redressal Mechanism as per the IT Rules, 2021 at "grievance.officer@myjosh.in" to address the concerns regarding terms of use, content, data privacy, and platform usage. Once a content piece or a profile is reported for violation of the Community Guidelines, the content moderation team reviews each reported grievance, and depending on the severity of the violation takes action either in the form of content takedown or blocking of the account in accordance with Josh's Community Guidelines.
3. Community Guidelines Enforcement
The below pie-chart depicts (in percentage) various violations/enforcement actions taken on the content. Further, described below are the various categories of violations as per Platform's Policies and categories as tagged by our users. This demonstrates our commitment to keep the Platform safe at all times for our Users.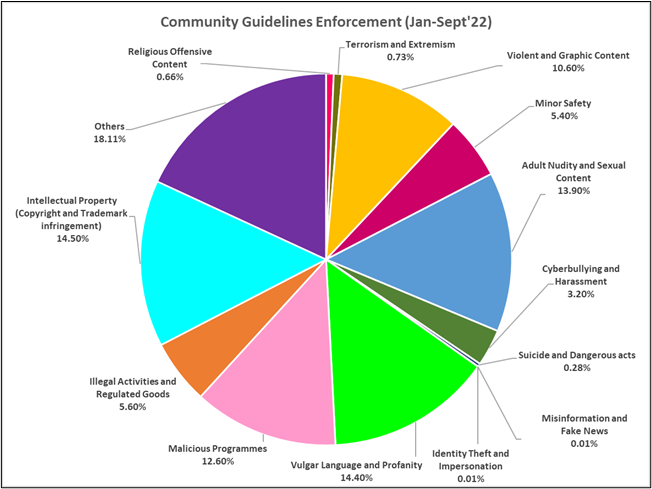 Religious Offensive Content: Any content which is religious offensive or hurtful to the sentiments of any individual, or which insults any religion or customs are a violation of our Platform's Policies.
Terrorism and Extremism: Any content which threatens the security and national integrity of India or promotes any dangerous activities are a violation of our Platform's Policies.
Violent and Graphic Content: Any activity which directly or indirectly threatens physical harm against any person, related to theft, vandalism, wrongful confinement, bodily harm, violent events, etc in the ways that can be construed as promoting or suggesting such content are a violation of our Platform's Policies.
Minor Safety: The Platform is committed to the safety and security of minors. Any piece of content related to minor safety, child sexual abuse imagery, pornography, exploitation, consensual or non-consensual imagery, etc which is intended to harm the safety and security of minors is not permitted on the Platform.
Adult Nudity and Sexual Content: Our Platform's Policies strictly prohibits any content related to adult nudity and sexual content including adult sexual content, pornography, and consensual or non-consensual imagery.
Cyberbullying and Harassment: The Platform provides a safe platform for its users to post content without being afraid, shamed, humiliated, bullied, or harassed.
Suicide and Dangerous acts: The Platform's Policies do not allow any user to upload any content related to suicide and dangerous acts.
Misinformation and Fake News: The Platform strictly refrains the users to upload content that manipulates, deceives, defrauds, or misleads anyone and provides harm to others.
Identity Theft and Impersonation: The Platform strictly refrains the users to upload content related to identity theft and impersonation in society.
Vulgar Language and Profanity: The Platform strictly refrains its users to upload content related to abusive language and gruesome content which instigate violence or enmity in society.
Malicious Programmes: The Platform's moderation process removes the content that is unverified or false or misleading, but may be perceived as factual example morphed, manipulated media, photoshopped and blurred pictures, and language mismatch.
Illegal Activities and Regulated Goods: The Platform is committed to prohibiting and creating awareness about illegal activities and regulated goods like the display of weapons, arms, and ammunition and the promotion of criminal and dangerous activities.
Intellectual Property (Copyright and Trademark Infringements): The Platform respects Intellectual Property and any violations reported are actioned.
Others: The Platform's moderation process removes the content which is not compatible.
At Josh, we aim to continuously evaluate, evolve and work to improve our practices including technology, content moderation and how we share information. Our goal is for Josh to remain a place for inspiration, creativity and joy. We are committed to your privacy, being transparent about user requests and content enforcement.